Food for Health – Gourmet Protein Muesli – Blueberries, Vanilla & Teff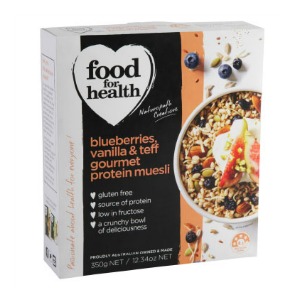 Food for Health is passionate about health for everyone.
Food for Health has created this Gourmet Protein Muesli to make life that little bit easier for people that care about their health and are looking for gluten free, low sugar and delicious breakfast options.
With added Teff (which is an amazingly nutritious super seed) it is high in protein providing 8 essential amino acids, one serve gives you 10% of your daily protein and 42% of your daily fibre intake! It is also very high in calcium and resistant starch, making it perfect for blood sugar management.
This Gourmet Protein Muesli also has little bursts of delicious blueberries and coconut!
Gluten free
Source of protein
Low in fructose
Nothing artificial
Australian Owned & made
Located: Health foods aisle
Health Star Rating: 4.5
Size: 350gm
Release date: Released
Road test: Untested
Visit website: Click Here
Shelf price: ∼$8.59
Available from: Coles, various IGA/Foodland/independent supermarkets and health food stores or online directly from Food for Health Click Here
Distribution: National