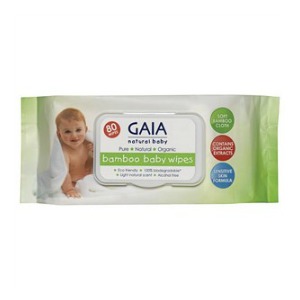 An exciting innovation in creating an eco and skin friendly baby wipe.
Made from ultra soft bamboo cloth that biodegrades in just 14 days (as independently tested), GAIA Natural Baby Bamboo Baby Wipes contain pure, natural, organic extracts to gently cleanse, soothe and care for your baby's skin at change time.
GAIA's sensitive skin formula has a light natural scent to cover the smell of soiled nappies at change time and is free from alcohol, petrochemicals, soaps, sulphates and paraben preservatives, so it is gentle enough to use on your little one's face, hands and nappy area.
GAIA recommend use in conjunction with GAIA's soap and sulphate free cleansers, skin-softening moisturisers and soothing nappy products to gently care for baby's delicate and sensitive skin.
Made from 'eco-friendly' 100% biodegradable bamboo cloth
Bamboo is strong but incredibly soft so feels nice against on baby's delicate skin
Contains natural moisturising and soothing agents – organic aloe vera and organic chamomile extracts
Located:
 Baby care aisle
Size: 80 pack (other sizes available)
Release date: Released
Road test: Untested
Visit website: Click Here
Shelf price: ∼$5.95
Available from: Coles, various IGA/Foodland/independent supermarkets and chemists
Distribution: National