GastroHealth – Daily Probiotic Baby Drops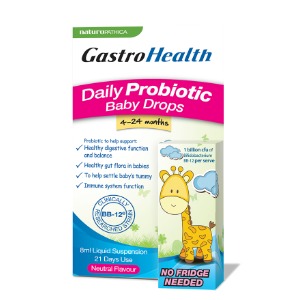 As many parents know, a baby with a balanced tummy is a happy baby. Good balanced micoflora plays a very important role during a baby's growth and development. GastroHealth Baby Drops Probiotics may help support that balance.
GastroHealth Probiotic Baby Drops provide a clinically researched, stable, dairy-free probiotic to help support the balance of gut flora, support digestive function, immune system function and to help settle baby's tummies.
easy to use
fridge free
dairy free, gluten free, soy free, and Non GMO
comes in an oil drop format
Located: Baby aisle
Size: 8ml
Release date: Released
Road test: Untested
Visit website: Click Here
RRP: ∼$24.99
Available from: Coles, Woolworths, various IGA/Foodland and independent supermarkets
Distribution: National