Gaviscon Double Strength Peppermint Antacid Tablets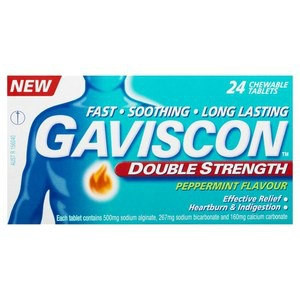 Soothing relief from heartburn, indigestion & reflux cough on the go. Double strength formula.
Fast Acting.
Long Lasting.
Extra Strength Formula.
Forms a protective layer over the stomach contents, which helps prevent acid coming back up into the oesophagus (food pipe).
Gaviscon Double Strength contains double the concentration of sodium alginate compared with original Gaviscon.
As such Gaviscon Double Strength can help alleviate also more frequent symptoms of heartburn.
Located:
Health & Beauty aisle
Size: 24pk
Release date: Released
Road test: Untested
Visit website: Click Here
RRP: ∼$8.99
Available from: Coles, Woolworths, various IGA/Foodland and independent supermarkets and chemists.
Distribution: National