Grants of Australia – Bamboo Toothbrush with Charcoal Infused Bristles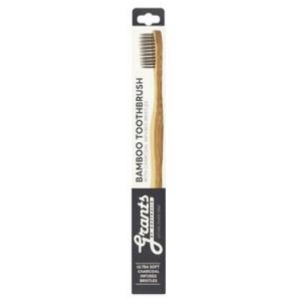 Grants of Australia has released their new ultra-soft Bamboo Toothbrush with Charcoal Infused Bristles which is an eco-friendly way to brush your teeth – the charcoal built into the toothbrush helps to fight plaque and bacteria while reducing stains and bad breath – the ultrafine bristles have been specially designed to gently clean teeth while allowing for a deeper clean as the bristles move into gaps between teeth.
And the handles are made from 100% biodegradable and environmentally sustainable bamboo, the bare bamboo handle can be composted and will safely return to the soil. The bristles aren't compostable but can be recycled (check with your local recycling facility).
Each toothbrush is individually sealed in a corn starch wrapper than can be composted and the boxes can be recycled.
Designed for Sensitive Teeth
Certified Vegan
Eco-Friendly
BPA Free
Australian Made & Owned
Located:   Dental Care aisle
Size:   1 Pack
Visit website:   Click Here
Shelf price:  ∼$4.50
Available from:   Coles or Grants of Australia online store: Click Here
Distribution:   National
apr2020