Great Northern Brewing Co – Zero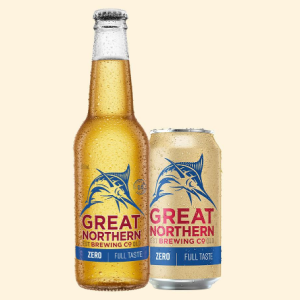 Great Northern Zero is a non-alcoholic beer, brewed with an outdoor lifestyle in mind. With its fruity aroma and crisp finish, it is the ultimate non-alcoholic refreshment for your favourite adventure.
The Great Northern Zero recipe has gone through a special alcohol removal process and then blended to create a crisp non-alcoholic beer without compromising on taste.
Non-Alcoholic
Tasting Notes: with deep golden hues and a fruity aroma that carries through to the palate, it has a balanced sweetness that is complemented with subtle bitterness. It finishes clean and crisp.
Made in Queensland
Visit website:   Click Here
Shelf price:   Unknown at time of writing
Available from:   Various supermarkets and bottle shops
Distribution:   Initially only available in QLD and NT
sep2020