Grinders – Cold Brew Coffee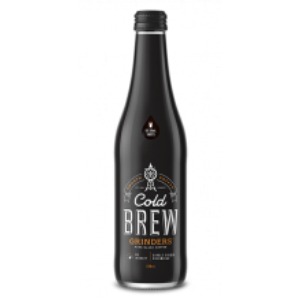 Grinders Coffee was established in 1962 in Lygon Street, the centre of Melbourne's famous Italian quarter. Today, Grinders is the largest roaster of Fairtrade coffee in Australia.
Grinders Cold Brew is based on a 100% pure extract of whole Colombian coffee beans that have been ground, then added to unfiltered water for 6-8 hours – the perfect amount of time to extract the full, pure coffee bean flavour without any unpleasant bitterness or acidity.
A smooth tasting pure black coffee, using Colombian Single Origin beans with notes of rich chocolate and hazelnuts.
Strength: 3 out of 4
Roasted, brewed and packed in Australia
Made from Colombian coffee beans
There are no additives, no alcohol, no sugar – just pure Cold Brew to enjoy unadulterated, straight up, or with a dash of milk.
Cold Brew is delicious straight up, over ice, or as an alternative, you could follow these simple steps to create a refreshing twist to your caffeine hit.
Cold Brew and Tonic Water: Add 1 part Grinders Cold Brew with 5 parts tonic water – garnish with an orange slice and fresh mint.
Cold Brew and a dash of milk , over ice – simple and delicious
Cold Brew Almond Milk Swirl – Mix equal parts of almond milk and Grinders Cold Brew together (Opitonal: melt some caramel and swirl it around the glass to add sweetness and texture)
Located: Coffee aisle
Size: 300ml
Release date: Released
Road test: Untested
Visit website:Click here
Shelf price: ∼$15.00
Available from: Woolworths
Distribution: National
oct2017