Handee – Paper Towel – Pet Odour Neutralising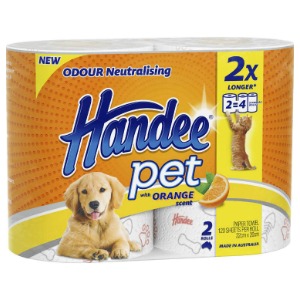 Handee Pet Odour Neutralising Paper Towel with Orange Scent is 2x longer (1 Handee Pet Double sheet is the same length as 2 Handee Ultra standard sheets). Handee Pet towel is made with Interlock Weave technology which quickly absorbs liquids and helps neutralise odours, making clean ups easier than ever. Simply wipe up the mess, dispose of the biodegradable towel and enjoy more time with your pet pal.
A pet print design helps make it easy to spot your Handee Pet towel amongst your other Handee products at home – specifically designed by pet lovers, for pet lovers.
Great for pet spills, messes, dirty paws, pet litter, drying fur coats
Odour Neutralising with Orange Scent
Biodegradable
Double Length
Specifically Designed for Your Pet
Made in Australia
Located:   Paper Towel aisle
Size:   2 Pack (120 Sheets per Roll, 22cm x 20cm)
Visit website:   Not available on Handee website at time of writing
Shelf price:  ∼$5.95
Available from:   Woolworths
Distribution:   National
jul2020