Harpic White & Shine 10X Toilet Cleaner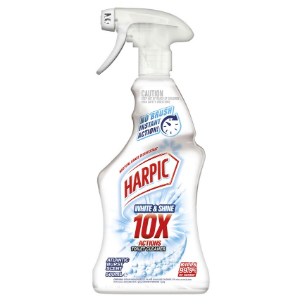 The Harpic White & Shine 10X Trigger has an effective bleach formula that whitens after 1 use and breaks down organic soil & stains instantly – it also kills 99.9% germs* (* E coli, S. aureus) – it can be used for your both inside and outside the toilet, allowing for cleaning performance and versatility.
10X benefits for a hygienic & cleaning performance:
Hygienic Clean
Powerful trigger for targeted stain removal
Starts acting immediately
Whiter after 1 use (vs soiled surface prior to product application)
Removes dirt & everyday organic stains
Kills 99.9% of germs (E coli, S. aureus)
Hospital Grade Disinfection
Active foam
Removes odour causing bacteria
Works for inside & outside toilet
The power of White & Shine now in a convenient & versatile format for your everyday toilet cleaning.
No brush instant action!
10x actions toilet cleaner
Kills 99.9% germs (E coli, S. aureus)
Hospital grade disinfection
Located:   Cleaning aisle
Size:   500ml
Visit website:   Not available on Harpic website at time of writing
Shelf price:   ∼$6.00
Available from:   Coles, various IGA/Foodland/independent supermarkets
Distribution:   National
jun2021
Disclaimer: The Grocery Geek provides general product information which is intended as a guide only, please ensure that you read the product label before consuming.