Infants' Friend – Oral Liquid now available at Woolworths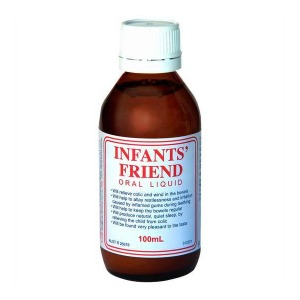 Infants' Friend Oral Liquid, the number one colic and wind medicine for infants, will be available in all Woolworths Supermarkets in Australia from February 2016.
As Infants' Friend states: Infants' Friend has been a household name for more than 80 years and has been used with great success. Passed on from mother to daughter, this popular baby colic relief medicine has been a saviour to many. Infants' Friend Oral Liquid is an effective, pleasant tasting formulation which:
contains no scheduled drugs.
will relieve colic and wind in the bowels
will help to allay restlessness and irritation caused by inflamed gums during teething
will help to keep the bowels regular
will produce natural, quiet sleep, by relieving the child from colic.
Located: Babycare aisle
Size: 100ml
Release date: Released
Road test: Untested
Visit website: Click Here
RRP: ∼$12.99
Available from: Woolworths, also from Chemist Warehouse, various pharmacies
Distribution: National