Kintra Foods – Dandy Chai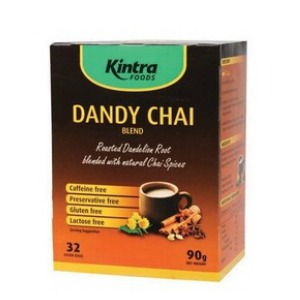 Kintra Foods Dandy Chai contains the finest roasted dandelion root, together with selected chai spices resulting in a delicious and healthy caffeine free beverage which is caffeine free and ideal for the health conscious and lovers of coffee with the added benefits and natural flavours of unique spices.
Benefits of the dandelion root:
Improves digestion and aids weight loss.
Eases congestion of the liver.
Helps to purify the bladder and kidneys.
Reduces the risk of urinary tract infections.
Contains calcium, magnesium, iron, zinc, potassium, vitamins B and C.
Helps to purify the blood, regulate blood sugar and improve blood circulation.
Helps to ease bloating and aching joints.
Helps to cure skin conditions.
The aromatic spices contain a traditional combination of cardamom, cinnamon, ginger, nutmeg, star anise and cloves – This combination adds warmth and an intriguing flavour.
Located:
Beverages aisle
Size: 90gm (32 tea bags)
Release date: Released
Road test: Untested
Visit website: Click Here
RRP: ∼$8.30
Available from: Coles, Woolworths, various IGA/Foodland/independent supermarkets and health food stores
Distribution: National