Kleenex – Toilet Tissue – Complete Clean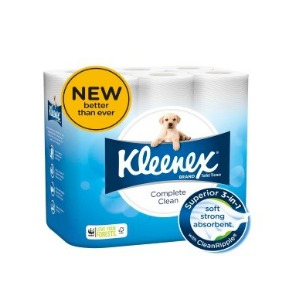 Kleenex has launched its new toilet tissue range, Kleenex Complete Clean toilet tissue which is a superior 3-in-1 combination of softness, strength and absorbency.
It has a unique 'CleanRipple' Texture that is 20 per cent bigger roll (in diameter) than the Kleenex Cottonelle range.
Soft
Strong
Aborsbent
Made from fibres 100 per cent sustainably sourced from Forest Stewardship Council (FSC) certified and FSC Controlled Wood sources.
Note: Kleenex's new Complete Clean replaces their Cottonelle Gentle Clean range
Located:
Toilet Tissue aisle
Size: 4pk / 12pk / 18pk / 24pk / 32pk
Release date: Released
Road test: Untested
Visit website: Not available on Kleenex website at time of writing
Available from: Coles, Woolworths, various IGA/Foodland/independent supermarkets
Distribution: National
mar 2017