Kleenex – VIVA Paper Towel – 6pk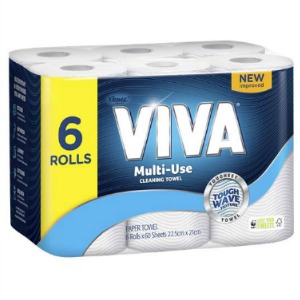 Kleenex has launched a 6 pack of its popular VIVA paper towel – VIVA Paper Towels are made to take on life's messes. From spills, dirt, crumbs and sticky messes, they can handle just about any job quickly and effectively.
With its special tough weave texture, VIVA Paper Towel cleans even better when wet. You can soak, wring, clean and scrub with it without the paper falling apart. Try out the remarkable absorbing and scrubbing power of VIVA wet and see for yourself just how tough it is.
Located: Paper Towel aisle
Size: 6 pack
Release date: Released
Road test: Untested
Visit website: Click Here
Shelf price: ∼$8.00
Available from: Woolworths, various IGA/Foodland/independent supermarkets
Distribution: National
feb 2017