KOOEE! – Grass-Fed Beef Jerky – Smoked Chipotle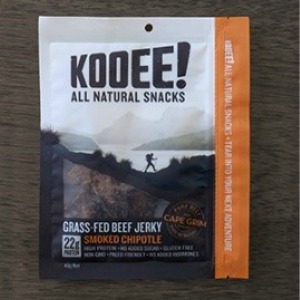 KOOEE! Snacks is a laid-back Tasmanian business that is very serious about crafting healthy beef jerky.
Made from 100% grass-fed Australian beef – each packet of KOOEE! has graphics based on a different Tasmanian National Park – Smoked Chipotle has illustrations from Cradle Mountain, Tasmania.
Their Smoked Chipotle Beef Jerky is their first flavour and is KOOEE's entry level chilli flavour but has "enough heat to keep you warm on any mountain top" whilst being suitable for all palates, which makes it the perfect snack to take on your next adventure or just for a snack.
Gluten/Soy/Dairy-Free (KOOEE! is the only jerky endorsed by Coeliac Australia)
Paleo-friendly
No added preservatives
100% Grass-fed beef
Non-GMO
No added Hormones
And the great news… KOOEE! is planning to launch an additional 3 new flavours in September 2016 – stay tuned!
Size: 30gm
Release date: Released
Road test: Untested
Visit website: Click Here
Shelf price: ∼$8.00
Available from: KOOEE Snacks online (see website link above) and in selected health food stores and specialty retailers
Distribution: National