Libra "Slimpons" Super Tampons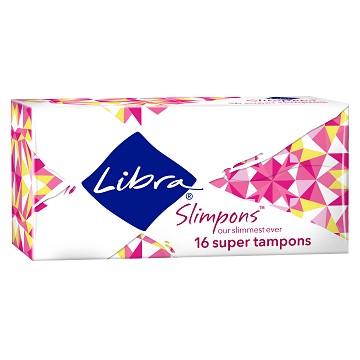 Libra "Slimpons" are Libra's slimmest tampon ever making them even more comfortable without comprising on absorbency.
tapered tip/base and knotted string make it easier to use.
wavy grooves help channel the fluid.
unique Anti-Fluff Base prevents fluffing when releasing the string.
Libra's infamous click lock box will store tampons securely in your handbag.
Libra's very own patterned twist open wraps are easy to use.
Libra say that their tampons are made with love in Australia.
Size: 16pk
Release date: Released
Road test: Untested
Visit website: http://www.lovelibra.com.au/products/the-libra-collection/libra-tampon-sup-161/
RRP: ~$5.75
Available from: Coles, Woolworths. IGA and independent supermarkets