Lindt – Lindor – Dulce De Leche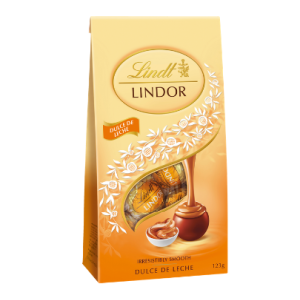 Indulge in a moment of bliss with Lindor Dulce de Leche, the finest Lindt milk chocolate with a delicate chocolate shell and irresistibly smooth melting filling, created by the Lindt Master Chocolatier. Perfect for those everyday special me moments.
Lindt's Master Chocolatier Thomas Schnetzler explained Dulce de leche "Dulce de leche is a rich, velvety caramel like confection that originated in South America and literally translates to 'Sweet of the milk'".
Dulce de leche is created by slowly reducing and cooking down a mixture of milk and sugar.
Located:   Confectionery aisle
Size:   123gm
Visit website:   Click Here
Shelf price:  ∼$8.00
Available from:   Coles, Woolworths, various IGA/Foodland/independent supermarkets
Distribution:   National
sep2020