Macfarms launches 'Easy open' Macadamias (Roasted & Salted in the Shell)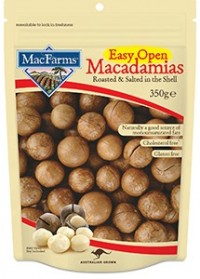 MacFarms new Roasted Salted Macadamias in the Shell have a pre-sawn slit making them easy to open when using the unique key included in the pack. Simply insert the key into the slit and lever to crack open the shell to reveal the rich, buttery nut inside.
Macadamias are rich in good monounsaturated fats and fibre, as well as antioxidants, vitamins and minerals containing high levels of essential nutrients iron and magnesium, however unlike opening peanuts or pistachios, it takes some serious manpower to extract a Macadamia from its shell – 300 pounds of pressure per sq. inch to be exact, making it the hardest nut in the world to crack.
Watch their video on how their easy-open macadamias work: Watch Video
Size:
350gm (stand-up pouch)
Release date: (Seasonal release only) October 2015 through to December 2015
Road test: Untested
Visit website: Click Here
RRP: Not advised
Available from: Coles only
Distribution: National