Macro Wholefoods Market – Cricket Protein Powder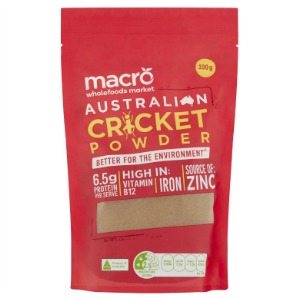 Prepare to be bowled over with Macro Wholefoods Market's new, Australian Cricket Protein Powder which includes the benefits of Protein, Vitamin B12, Iron and Zinc.  Even what it doesn't have is exciting – free from preservatives, artificial colours & flavours, gluten, soy, dairy and egg.
The good stuff doesn't stop there… Macro's crickets are born and bred in Sydney, Australia – in clean, hygienic conditions and fed a healthy diet of fruit and vegetables – plus, the way Macro crickets are farmed means they use less water and less land when compared to beef, pork or poultry.
Cricket protein powder is really versatile and has a similar consistency to pea protein – it has a mildly nutty, earthy, wholesome taste but will absorb any flavor it's mixed with – sweet or savory.
Just add approximately 2 teaspoons to start boosting the protein in your favourite recipes including smoothies, vegetable juices, cereals, breakfast bowls, soups, pancakes, cakes, biscuits, homemade bars, protein balls, bread or rissoles.
5g Protein Per Serve
High in Vitamin B12
High in Iron
Source of Zinc
Product of Australia
Better for the environment
No Artificial Colours, Flavours or Preservatives
Free of Gluten, Soy, Dairy and Egg
Located:   Health foods aisle
Health Star Rating (HSR):    2.5 
Size:   100gm 
Visit website:   Click Here
Shelf price:   Unknown at time of writing
Available from:   Woolworths
Distribution:   National
oct2019