Made by Cow – Cold Pressed Raw Milk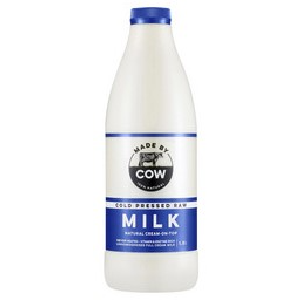 This is milk, made by cow. You've probably not tasted anything like it before, because this is milk un-messed with. Not heat pasteurised or homogenised. This is raw milk straight from the farm, treated with cold high pressure to make it safe. Enjoy milk as it's meant to be, never heated and filled with natural enzymes, calcium and vitamins, with a clean and creamy flavour you'll love. Direct from farm, to bottle, to you.
So what's the difference? This milk isn't sourced from Jersey cows…but is still free from a single source farm where the cows are free-range and grass-fed.
100% Natural
Cold Pressurised (Never Heated)
Enzyme Rich
Filled with Calcium, Protein and Vitamins
Unhomogenised Full Cream Milk
Located:   Dairy aisle
Size:   1.5L
Visit website:   Click Here
Shelf price:   1.5L – ∼$4.99
Available from:   Coles, various IGA/Foodland/independent supermarkets
Distribution:   National
oct2020