Mainland – Spreadable Garlic & Herbs Butter Blend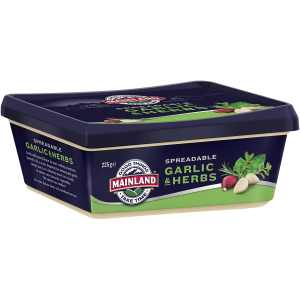 Easily add great flavour to your cooking creations… spread it on a crusty baguette for homemade garlic bread, use it as a finishing touch on a steak, or elevate your favourite vegetables – the options are endless!
Made with New Zealand grass fed butter
Located:   Dairy aisle
Size:   225gm
Visit website:   Not available on Mainland website at time of writing.
Shelf price:   ∼$5.20
Available from:   Woolworths, various IGA/Foodland/independent supermarkets
Distribution:   National
jul2021
Disclaimer: The Grocery Geek provides general product information, which is intended as a guide only, please ensure that you read the product label before consuming.