Majans Bhuja Snacks – Deli Style – Peanuts, Grain Twists & Almonds Mix with Sauteed Garlic & Chilli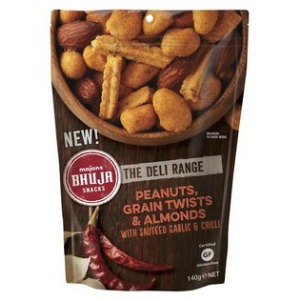 Majans gather raw peanuts from selected farms, sourcing the freshest, most wholesome nuts available. The premium nuts are then woven into a special chickpea batter, then lightly dusted with a unique blend of spices.
Savour the flavours of sauteed garlic and chilli, which has been dusted over the mouth-watering mix of crispy peanuts, crunchy ancient grain twists and almonds – take your taste buds on a journey bursting with vibrant texture and flavour.
Certified Gluten Free
5g protein per serving
No artificial colours or flavours
Vegetarian friendly
Located: Snack foods aisle
Size: 140gm
Release date: Released
Road test: Untested
Visit website: Not available on Majans website at time of writing
Shelf price: ∼$5.00
Available from: Coles, Woolworths, various IGA/Foodland/independent supermarkets
Distribution: National
oct2017