ModelCo – Self-tan remover wipes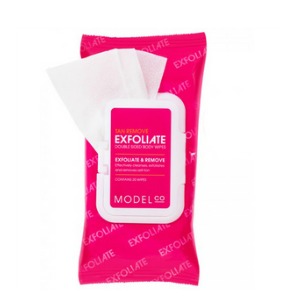 Instantly wipe away self-tan streaks and unwanted colour with ModelCo Exfoliate Double Sided Body Wipes.
These convenient, innovative body wipes feature two sides, one for gentle exfoliation and one for efficient self-tan removal.
The unique double-sided wipe has one textured side to gently exfoliate the skin and buff away impurities and dry skin, while the smooth side is used to effectively remove self-tan like never before to leave skin soft and crystal-clear.
Forget aggressive scrubbing of the skin to remove leftover tan or to fix streaks, ModelCo Exfoliate wipes contain the exfoliating benefits of AHAs and are the only self-tan remover wipes that work after self-tan has developed.
Gently and easily remove all traces of unwanted self-tan, eliminate streaks, lighten too-dark colour, clean stained palms and buff away any colour build up on knees, ankles or wrists.
The perfect prep to skin before applying ModelCo's award winning self-tanning products.
Shower-free alternative to traditional exfoliators and body scrubs.
Quick and convenient to rejuvenate and refresh the skin.
Located: Grocery juice aisle
Size: 20pk
Release date: Released
Road test: Untested
Visit website: Click Here
RRP: ∼$13.00
Available from: Coles, or from ModelCo website
Distribution: National