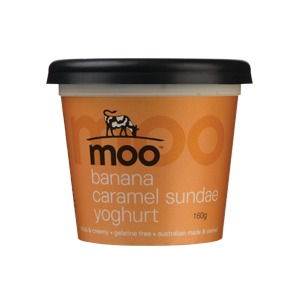 MOO Premium Yoghurt is carefully crafted with the finest ingredients and filled with the goodness of fresh Australian milk, for a thick, creamy and super smooth texture.
Gelatine free
Australian made & owned
With a range of 6 delicious gourmet flavours, MOO believe that you won't be able to stop at just one:
Creamy Smooth – 720g – One for all the yoghurt lovers, this classic works as the perfect accompaniment, or simply devoured on its own! – Hint: Creamy Smooth is great for baking! Try it in your next muffin, cake or cookie recipe.
Lemon Delicious – 720g/160g – Real lemon zest stirred throughout makes this favourite as moreish as a yummy lemon cheesecake. – Hint: Layer lemon delicious yoghurt with crushed biscuits for a quick and easy dessert option.
Blood Orange & Passion Compote – 720g/160g – This citrus hit will make your taste buds sing! Boosted with the fresh notes of blood orange and passionfruit, it's all about the 'zing' in every mouthful – Hint: The fresh burst of Blood Orange and Passionfruit makes this yoghurt the perfect addition to your morning muesli or fruit.
Sticky Apple & Organic Honey – 720g/160g – For those whole like their yoghurt to be comforting and sweet, sticky apple & organic honey is a deliciously dreamy treat – Hint: Mix with oats and buttery biscuit for a yummy take on Apple Crumble.
Boysenberry & Super Acai – 720g/160g – With luscious boysenberries and acai this super duo is power packed with all you'll need for world domination! – Hint: Add to smoothies or smoothie bowls for a super yoghurt hit.
Banana Caramel Sundae – 720g/160g – Just like a caramel sundae, this sweet treat will you have dreaming of long, balmy nights – Hint: Banana Caramel Sundae was made to be dolloped on pancakes! Top with freshly cut banana slices.
Located: Dairy aisle
Size: As detailed above
Release date: Released
Road test: Untested
Visit website: Click Here
Shelf price: 720g : ∼$6.50 / 160g : ∼$2.50
Available from: Coles, Woolworths, various IGA/Foodland/independent supermarkets
Distribution: National