Mr Chen's – Gluten Free – Vegetable Gyoza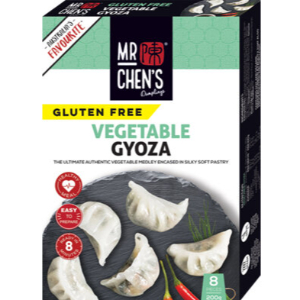 Mr Chen's believe that these are the ultimate authentic vegetable medley encased in silky soft pastry – anyone who says Gluten Free food can't be tasty, hasn't tried these dumplings! Mr Chen's has married the finest, authentic vegetables with their delicate dumpling pastry, with all of the flavour and none of the gluten! Whether fried golden and crispy or steamed silky smooth, these wholesome little bites are sure to delight.
Healthy meal
Easy to prepare
Ready in 8 minutes
Located:   Freezer aisle
Size:   8pk (200gm)
Visit website:   Click Here
Shelf price:   ∼$8.00
Available from:   Coles, Woolworths, various IGA/Foodland/independent supermarkets
Distribution:   National
jun2021
Disclaimer: The Grocery Geek provides general product information which is intended as a guide only, please ensure that you read the product label before consuming.