Nature's Way – Cacao Coated Pepitas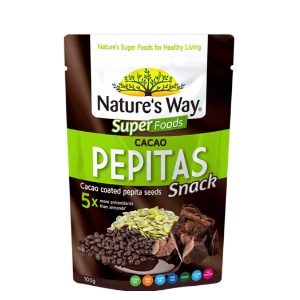 Each pepita is generously coated in dark cacao chocolate foe a new and delicious way to experience this superfood.
Made from two of the most known anti-oxident-dense superfoods found in nature making them a healthier treat loaded with raw superfood anioxident goodness, energy and vitality.
Eat them as a delicious snack or add them to your cooking, baking, yoghurt, smoothies or deserts or even sprinkle them on cereal or ice-cream.
Located:
Health Foods aisle
Size: 100gm
Release date: Released
Road test: Untested
Visit website:     Click Here
RRP: ∼$9.99
Available from: Not advised – seen at Woolworths
Distribution: National