Nestle – Plant Based – Condensed Milk Alternative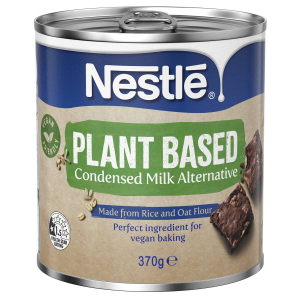 Nestlé Plant Based Condensed Milk Alternative is made from rice flour and oat flour and is perfect ingredient for delicious vegan baking – it's a great ingredient for creating tasty dairy alternative sweet treats such as cakes, cookies, brownies, cheesecake, caramel slice and more.
Because it is made from simple ingredients, Nestlé Plant Based Condensed Milk Alternative adds sweetness to your desserts but doesn't over power with its neutral flavour.
Ideal for those who are lactose free, dairy free, vegan and vegetarian.
Located:   Long Life Milks aisle
Health Star Rating (HSR):    1.5
Size:   370gm
Visit website:   Not available on Nestle website at time of writing
Shelf price:   ∼$4.00
Available from:   Coles, Woolworths, various IGA/Foodland/independent supermarkets
Distribution:   National
may2021
Disclaimer: The Grocery Geek provides general product information which is intended as a guide only, please ensure that you read the product label before consuming.