Nivea – Sun SPF 50+ Protect & Moisture – Moisturising Sunscreen Lotion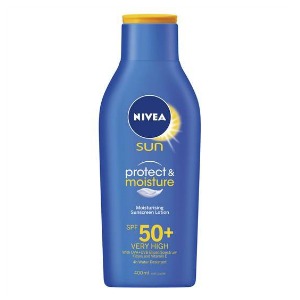 With broad spectrum sun protection and a moisturising formula, this sunscreen both protects you from harmful UV rays and nourishes your skin – you can expect UVA+UVB protection against ageing and sunburn, protection from skin dehydration with Vitamin E and 4 hours water resistance when applied correctly.
Nivea Protect & Moisture SPF 50+ Lotion combines strong UVA and UVB filters that shield the skin from sun damage with a caring formula with panthenol and vitamin E that protects the skin from the drying effects of the sun.
Always read the label and use only as directed. Warning: Avoid contact with the eyes. Avoid prolonged exposure to the sun. Wear protective clothing, hats and eyewear when exposed to the sun.
Located:
Health & beauty aisle
Size: 400ml
Release date: Released
Road test: Untested
Visit website: Click Here
Shelf price: ∼$20.99
Available from: Coles, Woolworths, various IGA/Foodland/independent supermarkets, Chemist Warehouse, various pharmacies.
Distribution: National