No Issues – Tree Free Paper Towels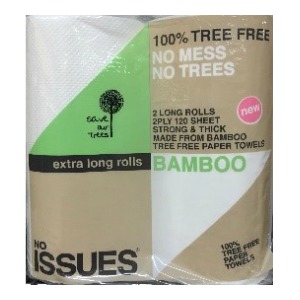 No Issue products are strong & soft – made tree free.
Now everyone has the opportunity to choose something environmentally friendly.
Unlike trees, bamboo is one of the most rapidly renewable resources for pulp. It can reach full height in just a few months without the need for pesticides, herbicides or fertilizers.
Saving trees for our children's children.
Valuing our forests, which may be home to threatened or endangered animals & ecosystems.
Protecting our animals and trees for the future.
Helping to save our planet.
No Issues Paper towel is:
2ply
100% Tree Free – made from bamboo
100% Australia Owned
Not Chlorine bleached
Located: Paper Towel aisle
Size: 2 pack
Release date: Released
Road test: Untested
Visit website: Not available on No Issues website at time of writing
RRP: ∼$5.00
Available from: Coles, Woolworths, Harris Farm
Distribution: National