Nomad Chocolate – Drinking Chocolate with Peppermint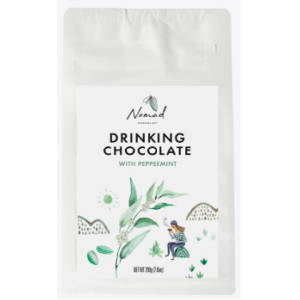 Inspired by the sacred healing powers of the Australian wilderness, Nomad Chocolate have embarked on creating the ultimate Peppermint Hot Chocolate. The minty tone and aroma of Australian Peppermint Gum rises from a velvety, rich chocolate with relaxing and nourishing properties. This is an ultimate treat for the holidays or a cold winter day. Peppermint Gum is native to Australia and sourced locally.
With a strong sweet mint aroma and taste, peppermint gum leaves have been used for flavouring and their fragrant smell in Australia for centuries. The minty fresh leaves are said to improve concentration and calm the digestive system.
Vegan
Gluten Free
GMO Free
Soy Free
Additive & Preservative Free
Fairly Traded
Size:   200gm
Visit website:   Click Here
Shelf price:  ∼$12.00
Available from:   Nomad Chocolate Online Store: Click Here
aug2020