Noshu – 95% Sugar Free Choc Caramel Crunch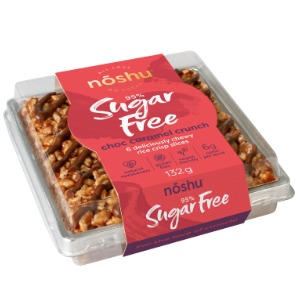 If you thought it was impossible to find a deliciously chewy and crunchy sugar-free treat then you're in for a surprise! These decadent choc caramel slices are made from crunchy puffed rice, coated in chewy caramel joy and a rich choc drizzle… these little gems are seriously addictive – try stopping at one!
Ready-to-eat eat and perfectly portioned for school lunchboxes, kids snacking or grown-up treats!
Natural Sweeteners
No Artificial Colours or Flavours
Gluten Free
Vegan Friendly
6gm Carbs per Serve
82 Calories per slice
Located:   Refrigerated Bakery aisle
Size:   6 slices (132gm)
Visit website:   Click Here
Shelf price:  ∼$6.50
Available from:   Woolworths
Distribution:   National
jun2020