Nudie – Limited Edition – Nothing but – Winter Goodness – Blood Orange Pear & Raspberries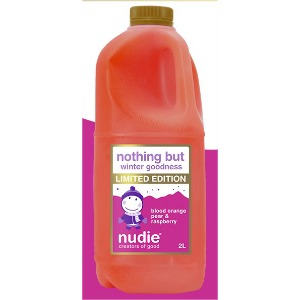 What does Nudie mean by nothing but? – they literally mean 'nothing but' the fruit! Nudie's 'Nothing but' range contains no added sugar and no nasties like preservatives, additives, colourings and concentrates…. good, simple, fruit juice.
Nudie's latest limited edition Winter Goodness is combination of lip-smackingly luscious blood orange, pear and raspberries, to cosy up with in winter and perk up your tastebuds!
Located:
Dairy aisle
Size: 2lt
Release date: Released
Road test: Untested
Visit website: Not available on Nudie website at time of writing
Shelf price: ∼$7.00
Available from: Coles, Woolworths, various IGA/Foodland/independent supermarkets
Distribution: National
may2017