Oral-B 3D White Brilliance 2 Step Whitening System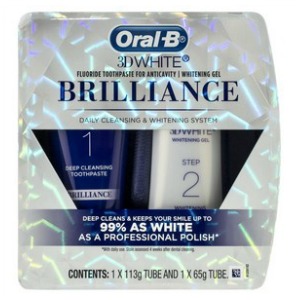 Your #NOFILTER smile is ready for any special occasion… special occasions lend themselves to shareable moments. Whether it's a night out with friends, a wedding or a beachside holiday, Oral-B's latest and most advanced technology in teeth whitening will give you the confidence to go filter-free in your snaps!
Just like a good skin care routine would consist of at least two steps, your smile can benefit from a similar approach – the new Oral-B 3D White Brilliance 2 Step System includes a deep cleansing toothpaste and a whitening finisher to keep your smile up to 99% as white as a professional polish.
Step 1: using a gentle foaming action, the deep cleansing toothpaste provides a deep, thorough clean in hard-to-reach areas – leaving a crisp, clean feeling that lasts.
Step 2: provides the whitening treatment to polish and whiten teeth gently, leaving them with a brilliant white shine.
Located: Oral care aisle
Size: 2 tube pack (133gm / 65gm)
Release date: Released
Road test: Untested
Visit website: Not available on Oral-B Australia website at time of writing
Shelf price: ∼$20.00
Available from: Coles, various IGA/Foodland/independent supermarkets and pharmacies
Distribution: National
mar2018