Oral-B – Toothpaste – Gum Care Whitening – Mint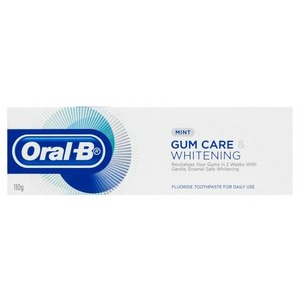 Oral-B Gum Care & Whitening promotes healthy gums by fighting plaque bacteria along the gumline and slowing its re-growth. The polyphosphate technology removes surface stains to gently whiten teeth.
Revitalises your gums in 2 weeks with gentle, enamel safe whitening.
Its ActivRepair Technology is proven to target the gum line area.
Gentle antibacterial action on gums.
Revitalises gums.
Restores weakened enamel.
Strengthening action on enamel. It creates a shield against acid erosion and actively restores weakened enamel.
Flouride toothpaste for daily use.
Located: Dental care aisle
Size: 110gm
Release date: Released
Road test: Untested
Visit website: Not available on Oral-B website at time of writing
Shelf price: ~$10.00
Available from: Coles, Woolworths, various IGA/Foodland/independent supermarkets
Distribution: National
mar2018