Outback Spirit – Outback Tomato Chutney – New Packaging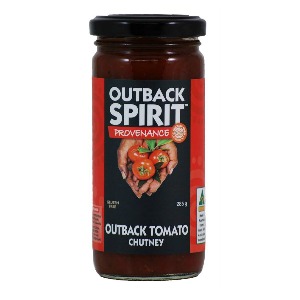 Outback Spirit's popular Tomato Chutney has been available for a while but it now comes in new packaging, so keep your eye out for it.
Outback Spirit Tomato Chutney is robust and gutsy, made from Bush Tomatoes that are grow in Australia's arid centre.
Perfect for:
all grilled, char grilled and BBQ meats-especially beef and kangaroo.
cured meat cuts and terrines.
sharp cheeses such as aged cheddar, goats or grilled sheep cheese.
or as a pasta sauce or casserole.
Located:
Sauces aisle
Size: 285gm
Release date: Released
Road test: Untested
Visit website: Click Here
Shelf price: ∼$5.50
Available from: Coles, or direct from Outback Spirit on their website (refer above).
Distribution: National