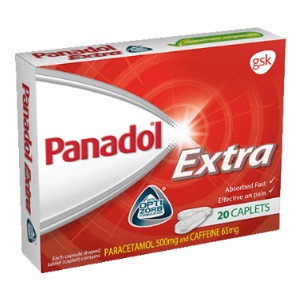 Panadol Extra with 'Optizorb Formulation' contains a clinically proven combination of ingredients for fighting tough pain.
Each caplet contains paracetamol and caffeine, plus advanced 'Optizorb' technology, designed to fight five types of tough pain:
migraine headache
period pain
tension headache
muscle aches and pains
dental pain.
When you want a powerful pain reliever, choose Panadol Extra.
Other features:
No gluten, lactose, or sugar
Contains paracetamol
Does not contain ibuprofen
Always Read The Label: Contains caffeine. – Use only as directed. – For the temporary relief of pain. – Incorrect use could be harmful. – Consult your healthcare professional if symptoms persist.
Located: Health care aisle
Size: 10 pack – ∼$4.50 / 20 pack – ∼$7.20 / 40 pack – ∼$10.99
Release date: Released
Road test: Untested
Visit website: Click here
Shelf price: As detailed above
Available from: Coles, Woolworths, various IGA/Foodland/independent supermarkets, convenience stores and pharmacies
Distribution: National
sept2017