Pitango – Sunfed Chicken-Free Chicken Thai Style Soup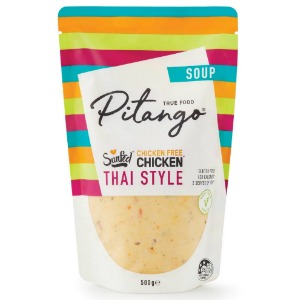 Pitango's unique new soup has been created in partnership with meat-free company, Sunfed Foods.
Made with Sunfed chicken-free chicken which consists of a premium yellow pea protein which tastes just like chicken!  The soup is also packed with vegetables, simmered in coconut cream and mixed with Thai yellow curry paste to create a delicious, authentic vegan meal.  Garnish with fresh coriander and sliced red chilli for an extra flavour hit!
Located:   Refrigerated prepared meals aisle
Health Star Rating (HSR):    3.5
Size:   500gm
Visit website:   Not available on Pitango Australia website at time of writing
Shelf price:  ∼$6.00
Available from:   Coles, various IGA supermarkets
Distribution:   National
may2020