Poppin Microwave Popcorn – Raw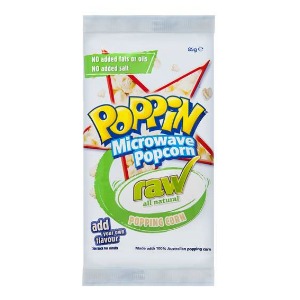 This is pure and simple, all natural popcorn.
No added fats or oils.
No added salt.
No added flavours, colours, or preservatives.
Made from Australian Popping Corn.
Add your own flavour.
Eat it fresh, hot and fluffy straight from the bag for an easy and convenient way to eat popcorn.
Located:
Snack foods aisle
Size: 85gm
Release date: Released
Road test: Untested
Visit website: Click Here
RRP: ∼$1.76
Available from: Not advised at time of writing – seen at Woolworths
Distribution: National