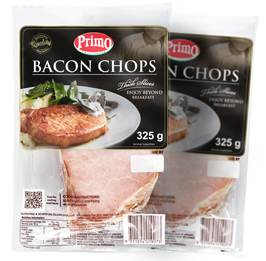 Homer Simpson rejoice… Primo now says that now anytime can be bacon time.
Their new Primo Bacon Chops are succulent, thick bacon slices.
With this new, bigger slice – Primo Bacon Chops make for a simple, mouth-watering meal, morning, noon and night.
Bringing out Primo Bacon Chops' flavour is as easy as popping them straight onto the grill, or into the frying pan.
Serving suggestions:
Size: 325gm
Release date: Released
Road test: Untested
Visit website: http://www.primosmallgoods.com.au/
RRP: ∼$5.99 – seen on special $4.50
Available from: Woolworths – not advised of other outlets