Puhoi Valley Cheeses now available at Foodland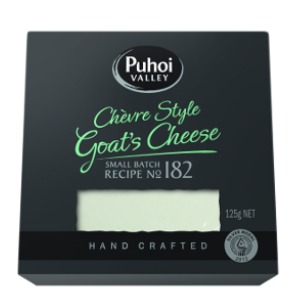 Puhoi Valley is an artisan cheese maker from New Zealand.
Their cheeses reflect their belief that food made with care, to taste good, feeds the body and lifts the spirits.
Foodland ranges 6 of Puhoi Valley's cheeses:
Aged Cheddar – 125gm – is covered in a black wax which both protects the cheese and helps the flavour develop.  The Cheddar has a sharp, full flavour with nutty notes and the hard, crumbly texture typical of mature cheddar.
Single Cream Camembert – 125gm – a round cheese covered in a soft white mould.  It has a smooth creamy texture with a subtle mushroom flavour.
Double Cream Brie – 220gm – a large oval-shaped brie made with extra cream to achieve a soft, luxuriously rich and buttery taste.
Distinction Blue – 200gm – is a creamy, spicy and sweet blue cheese.  It is matured for several weeks before being dipped in black wax, the wax helps the cheese retain moisture and develop the sweet, creamy flavour.
Blue Brie – 125gm – has a smooth texture, with a clean, creamy flavour and an exceptionally mild hint of blue. This is the mildest blue from the Puhoi Valley range and is a great way to start enjoying blue cheese.  This cheese combines the mushroom flavour of brie with the sharpness of blue.  The outside of the cheese is snowy white and it has a slightly firmer texture than standard Brie which helps develop the blue mould inside – A great beginners blue cheese.
Chèvre Style Goat's Cheese – 125gm – is made in a similar style to French Goats' cheese.  It is an incredibly smooth, fine-textured cheese made from Goats' milk. It is bright white in colour and has a light citrus flavour – This cheese is delicious spread on crusty French bread, served on a cheeseboard or as an ingredient in cooking.
Located: Dairy aisle
Size: As detailed above
Release date: Released
Road test: Untested
Visit website: Click Here
RRP: Prices not supplied
Available from: Foodland
Distribution: SA