Quick-Eze – Chewy – Cooling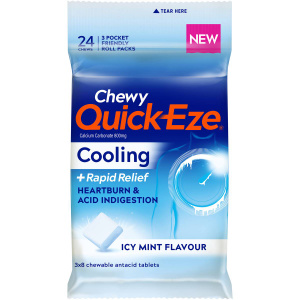 Chewy Quick-Eze Icy Mint flavour antacid tablets help provide rapid relief from heartburn and acid indigestion by neutralising stomach acid fast, while also providing a refreshing cooling sensation in the mouth and throat – contains the active ingredient Calcium Carbonate, and no artificial colours.
Each pack contains 24 individually wrapped tablets, conveniently packed in 3 sticks of 8, perfect to take on-the-go.
Always read the label. Follow the directions for use.
Located:   Medicinal aisle
Size:   24pk
Visit website:   Not available on Quick-Eze website at time of writing
Shelf price:   ∼$6.50
Available from:   Woolworths, various IGA/Foodland/independent supermarkets
Distribution:   National
mar2021