Radiant – Laundry Liquid – Limited Edition – White Lily, Gardenia & Mandarin Blossom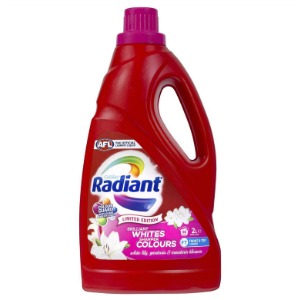 Treat your clothes to the perfect combination of Radiant's trusted Brilliant Whites, Sharper Colours formula, blended with the delightfully decadent scent of white lily, gardenia & mandarin blossom.
Radiant knows how good it feels when your clothes look like new – Radiant Brilliant Whites Sharper Colours is specially formulated to protect whites and colours while lifting dirt and tough stains.
Radiant's Colour Guard technology combined with optical brightener helps keep colours sharp and whites whiter, so you can feel confident wash after wash.
Colour Guard keeps colours newer for longer
Anti-fuzz technology removes pilling to help keep colours looking sharper
Anti-greying technology helps prevent colours looking dull & grey
Brilliant wash results in cold water
Grey water friendly
For front & top Loader
Located: Laundry aisle
Size: 2lt (36 washes)
Release date: Released
Road test: Untested
Visit website: Not available on Radiant website at time of writing
Shelf price: ∼$9.50
Available from: Coles, Woolworths, various IGA/Foodland/independent supermarkets
Distribution: National
may2017