Reef – SPF 50+ Coconut Sunscreen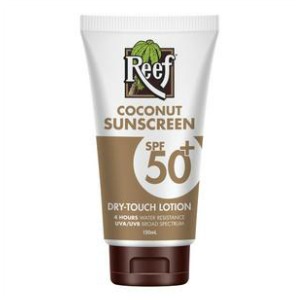 Reef's new light, non-greasy and richly hydrating sunscreen lotion, scented with the smell of summer – Reef's signature coconut fragrance. Reef's Coconut Sunscreen provides 2 hours of water resistance with a high broad-spectrum protection against both UVA and UVB rays.
Suitable for all skin types, non-sticky and comfortable on your skin – Reef's Dry Touch formula also helps ensure sand won't stick to your skin at the beach.
SPF 50+
Non-Greasy, Dry Touch
Richly Hydrating
2 Hours Water Resistance
Located:   Beauty aisle
Size:   150ml 
Visit website:   Click Here 
Shelf price:  ∼$12.00
Available from:   Coles, various IGA/Foodland/independent supermarkets
Distribution:   National
oct2019