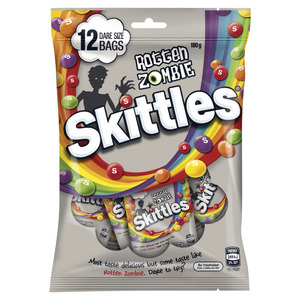 Most of these Zombie Skittles are delicious, but some taste like rotten zombie.
Featuring frighteningly fruity flavours of spooky strawberry, grim green apple, lurking lemon, ghostly grape and some hidden rotten zombie-flavoured candies…
Pass out fun size packs of this mischievous candy to trick-or-treaters on Halloween night or bring a bag of Skittles Zombie to your Halloween parties. Dare to Try?
Located:   Confectionery aisle
Size:   12 Pack (180gm)
Visit website:   Not available on Mars website at time of writing
Shelf price:   ∼$5.00
Available from:   Coles
Distribution:   National
oct2020