Sour Patch – Kids Berry Sweets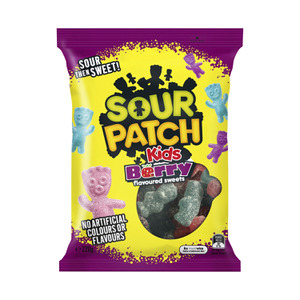 Sour Patch Kids Berry Flavoured Lollies with no artificial colours or flavours…sour then sweet!
Delicious Berry flavoured lollies covered in a sour then sweet blast! SOUR PATCH KIDS lollies are fun, soft, and chewy treats; beloved by kids, teenagers, and adults.
In awesome Berry flavours include Strawberry, Blackcurrant & Blue Raspberry.
No artificial colours or flavours
Located:   Confectionery aisle
Size:   220gm
Visit website:   Not available on Sour Patch website at time of writing
Shelf price:   ∼$4.00
Available from:   Coles, Woolworths, various IGA/Foodland/independent supermarkets
Distribution:   National
mar2021