Sunfed – Chicken Free Chicken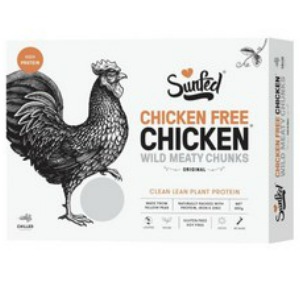 Sunfed meats are made from premium yellow pea protein – Sunfed say that they cook, feel and taste just like animal meat but are healthier, both for you and the planet.
With just a handful of all-natural wholesome ingredients, and clean water-based proprietary techniques, Sunfed turn protein-packed pulses into delicious meaty goodness. That's it!
Easy use your favourite chicken recipe.
Convenient – thaws and cooks fast, cooks from frozen.
Hassle free – no bad bugs, salmonella free.
Cooks fast in 3-4 minutes, best to add at end
Bigger pieces recommended
Gluten free
Soy free
egan
Naturally packed with Protein, Iron & Zinc
How To Cook Sunfed Chicken – break up into chunky pieces, fry in a generous amount of your favourite oil until deep golden brown, then easily substitute for chicken pieces in your chosen chicken recipe, best to add at end… and you're done!
Located: Meat Dept aisle
Size: 300gm
Release date: Released
Road test: Untested
Visit website: Click here
Shelf price: ∼$11.00
Available from: Coles
Distribution: National
jun2019