Sunfresh – New Season – Layered Salads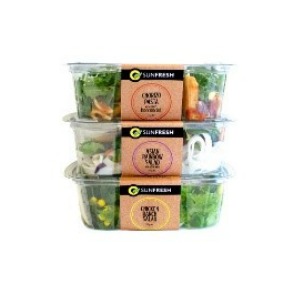 Sunfresh has introduced their new hand crafted café inspired layered fresh ready-to-eat salad range – perfect for a delicious and convenient meal on the run!
Available in 5 variants:
 Asian Rainbow Salad with Chicken – Crunchy Vietnamese inspired salad on a bed of rice noodles served with pulled chicken and fragrant sesame dressing.
Chicken Ranch Salad – Pulled chicken and sweet corn on a bed of Cos lettuce and spring onions, served with an American inspired ranch dressing and croutons.
Kofta & Couscous – Moroccan style couscous, lamb and chicken kofta with yoghurt dressing, topped with rocket.
Chorizo Pasta with Pearl Bocconcini – Roasted Chorizo, pearl boconccini, Mediterranean vegetables and penne pasta folded through a Spanish inspired tomato dressing.
Pumpkin, Brown Rice & Feta – Roasted pumpkin, brown rice and quinoa in a tangy orange dressing, topped with feta and rocket.
Located: Produce (refrigerated) aisle
Size: 275gm
Release date: Released
Road test: Untested
Visit website: Click Here
Shelf price: Not advised at time of writing
Available from: Coles, Woolworths, various IGA/Foodland/independent supermarkets
Distribution: South Australia