Super Nature – Super Foods – Chicken Pad Thai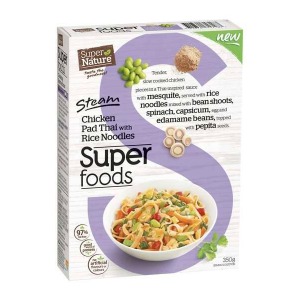 Tender slow cooked chicken pieces in a Thai-inspired sauce with mesquite, served with rice noodles mixed with bean shoots, spinach, capsicum, egg and edameme beans, topped with pepita seeds.
97% fat free
Good source of protein
No artificial flavours or colours
The Super Nature range of meals are busting with some of the healthiest, most natural ingredients around.
Each meal is carefully prepared to combine healthy ingredients to create super tasty meals. Now, you no longer have to choose between health and taste – Super Nature meals are packed with both.
Located:
Freezer aisle
Size: 350gm
Release date: Released
Road test: Untested
Visit website: Not available on Super Nature website at time of writing
Shelf price: ∼$6.29
Available from: Woolworths, various IGA/Foodland/independent supermarkets
Distribution: National