Surf Plus – Laundry Liquid – Stain Attacker – Tropical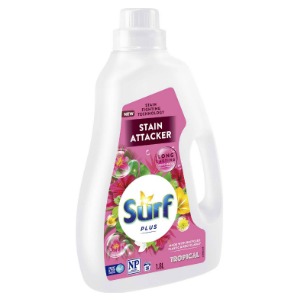 Surf's Plus range has Surf's signature long-lasting freshness but now with the added benefits to take your laundry to the next level.
Always loved long-lasting freshness in your laundry but also wanted it to remove stains?… Surf Plus Stain Attacker is specifically formulated with stain fighting technology to attack stains effectively. Surf's delightful fragrance helps you escape to a tropical paradise of ylang ylang and tiger lily. Inspired by the tropical lifestyle, experience a dose of uplifting freshness and a brilliant clean in every wash – it will lift your spirits and elevate your laundry from pleasantly clean to fantastically fresh and fragrant.
Contains Stain Fighting Technology
Brilliant Clean in Cold Water
Suitable for Both Top Loader and Front Loader
Made with Recycled Plastic and Recyclable
Made in Australia
Located:   Laundry aisle
Size:   1.8L
Visit website:   Not available on Surf website at time of writing
Shelf price:  ∼$8.00
Available from:   Woolworths
Distribution:   National
jun2020