thankyou – Limited Edition – Hand Wash – Hope Edition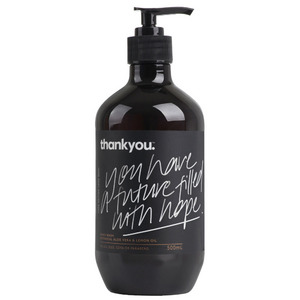 This limited-edition hand wash represents more than just clean hands; it's a tribute from the thankyou team to you, inspired by one powerful word; hope. The label has been designed with you, and humanity in mind.
thankyou dream that it will serve as an every-day reminder to you (and whoever sees it sitting pretty on your bench-top!) that no matter what's going on in the world, we always have the power to choose hope. thankyou hope it helps you to feel inspired about your bright future, and gives you a chance to take a moment and remember all the good stuff in life!
thankyou believe that while the world is changing around us, human-kindness is on the rise, and there will always, always be reasons to hold onto hope.
Features Botanical Aloe Vera & Lemon Oil
Vegan Friendly
Not Tested on Animals
Palm Oil Free
No: Sulphates (SLS/SLES) EDTA, Parabens, Propylene Glycol, Harsh Petrochemicals, Triethanolamine, Synthetic Fragrances, Harsh Detergents, Animal Derivatives, Mineral Oils, Artificial Colours, or PEGs.
Made in Australia
Located:   Health & Beauty aisle
Size:   500ml
Visit website:   Click Here
Shelf price:  ∼$8.50
Available from:   Coles, Woolworths, various IGA/independent supermarkets
Distribution:   National
sep2020