The Alternative Meat Co. – Plant Based Meat Replacement Range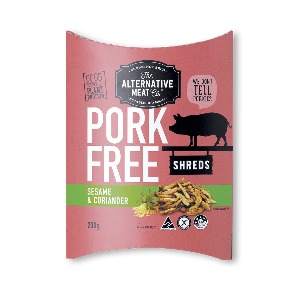 The Alternative Meat Co. has finally achieved their mission, (3 long years in the making!) to bring you a protein alternative, that The Alternative Meat Co. says: "Hey, we all know times are changing. Thought you needed animals to get protein? – Not anymore, we get our protein from plants… Welcome to the age of the Alternative Meats – Grown not bred".
The Alternative Meat Co. are just passionate foodies who care about our planet. They say that their products are: "It's the same, but different! – It looks, cooks and tastes the same as meat, but it's 100% plant-based. Now you've got an alternative choice."
Vegan friendly
Good source of plant protein
Available in 5 variants:
* Beef Free Chunks – Lightly Smoked – with a subtle smokey flavour and fantastic meaty texture, these chunks offer great versatility.
* Beef Free Strips – Zingy Chipotle – these strips pack a little bit of a kick. They have a medium heat perfect for spicy dishes.
* Chicken Free Chunks – Zesty Lime & Chilli – more zesty than spicy, these chilli & lime chunks have a fragrant flavour perfect for South East Asian dishes.
* Chicken Free Strips – Lemon & Thyme – these strips are so versatile they'll be your go to substitute for most chicken dishes you love to cook.
* Pork Free Shreds – Sesame & Coriander – "I can't believe it's not pork" is what you'll be saying to yourself after trying these deliciously savoury shreds.
Also, see The Alternative Meat Co.'s recipe ideas: Click Here
Located: Dairy aisle
Health Star Rating (HSR): 4.5
Size: 200gm
Release date: Released
Road test: Untested
Visit website: Click Here
Shelf price: ∼$7.50
Available from: Coles, various IGA/Foodland/independent supermarkets
Distribution: National